Page 1:
The starting moments of BioShock are arguably some of the best in video game cinema history. At the start of the game immediately I was put behind the eyes of Jack who after a brief dialog sequence becomes the soul survivor of a mysterious intercontinental plane crash. Without much choice I swam for a near by lighthouse as jet fuel burned all around me and remains of the plane sunk into the abyss. Once I reached the house there was nothing else to do but go inside. With a massive bust of a glaring man staring down at me with a banner draped across his chest that read "No Gods or Kings. Only Men" I knew this was no ordinary light house. The moment I entered the personal submarine transport at the bottom the games excellent pacing began and didn't let up for the next 10 hours.
Crysis what?
This game is stunningly beautiful. Even on DirectX 9 settings simply no other game looks this good. Every surface pops with surprising detail and great care was taken to make every room unique and intermesh with the games survival horror style scheme. Also a monster of a system isn't required to enjoy the experience, even if you're on the edge of the minimum requirements a more then playable frame rate is achievable with mid settings on. The graphics are done, fortunately, so well that they nearly make up for the almost total lack of innovation.
Deep in its heart BioShock houses a terrible secret. It's a corridor shooter. Not unlike Doom 3, the underwater halls and rooms of Rapture may as well be the underground tunnels and caverns of Hell. Each of the games 8 levels are a maze of decaying civilization. Massive pools of blood slick the floors, bodies of the dead litter everywhere and psychotic ADAM crazed citizens shoot first and ask questions later. While each level is unique in its own right, the unprecedented amount of detail doesn't change the fact that their really is no difference in what you do in each one. Sure, one may have ice and another have leaking walls but most of the games objectives consist of Jack going on some wild goose chase for ingredients to make some mission critical gadget. The game also has the annoying habit of throwing just about everything in your way that it can. I'm all for a few extra challenges but one entire level has you spending up to two hours trying to complete a madman's masterpiece and literally has nothing to do with the plot. Distractions like these made me thankful for the games enjoyable combat system.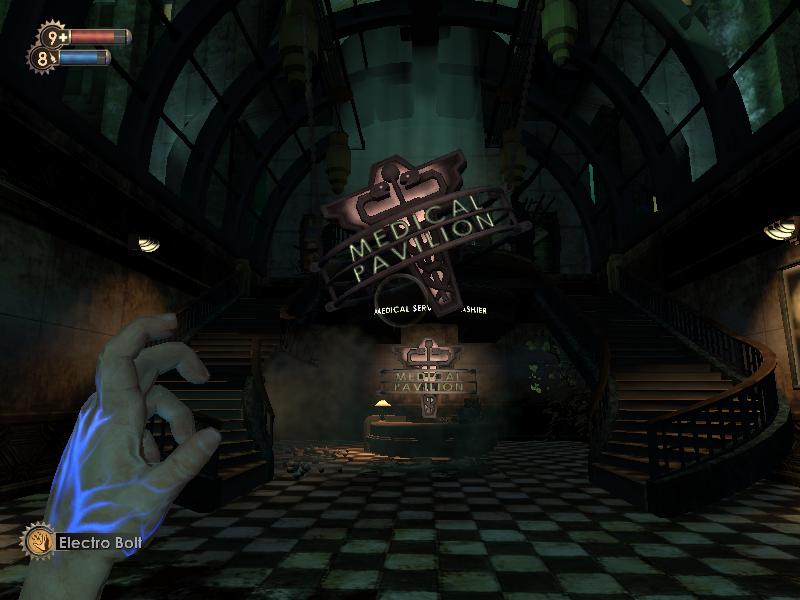 Each level is beautifully crafted and unique.
BioShocks biggest claim is its unique combat systems udder versatility through Plasmids. Plasmids are specifically designed DNA mutating solutions that allow the player to spark someone on fire or electrify the water they are in. There are 10 different castable plasmids most of which have 3 different levels of power. Unfortunately, the power increases aren't that noticeable and sometimes felt pointless to spend the precious ADAM (the genetic stuff that is turned into the plasmids) on. The environments provides some interesting implementations of the plasmids such has oil pills to light on fire, heave objects to throw (the game uses the Havoc Physics Engine) , and water puddles to electrify while enemies wade around in them. In the end though, anyone who dabbled in Oblivions magic system will find most of the abilities very familiar. Though the plasmids make the fights much more interesting, the conventional weapons are usually what get the job done. They also have access to upgrades which are more helpful then the Plasmids.
The rest of the plasmids are in the form of passive Gene Tonics. Jack can put six Gene Tonics each in three different trees (Physical, Engineer, Combat). Truthfully, the passive tonics alter the core game much more then the castables. Once more tonics and slots are unlocked, Jack can become just about what ever the player likes and for me that was a wrench clubbing monster. Every time someone meleed me a burst of electricity gave them a hard jolt. At the same time every once in a while after I whacked them back they would become frozen, giving me a chance to shatter them to pieces. Another Tonic increased my swing speed, and another added damage, and another restored health when I hit people and one more reduced damage inflicted against me. I became a walking tank and for the last quarter of the game, I could go toe to toe with an infamous Big Daddy and win with all the health I started with.
Early on, you will end up like this fella often
I'll say that again because though fun at first it's one of my major issues with the game. I could beat a Big Daddy to death with a wrench. And if I liked, I could do it at the very start of the game without any tonics, plasmids, or even health packs. BioShock is a survival horror but theirs no punishment for not surviving. Every time I bit the bullet (or drill in most cases early on) I'd just warp back to a Vita-Chamber, some times in the very same room I died in. Unfortunately, this makes the game piss easy and everything that was scary or deadly turned into minor annoyances which is a real shame considering how well the beginning presentation of the game generated a horror atmosphere I hadn't experienced since Doom 3.
Nearly everyone I encountered was a demented Splicer (ADAM addicts), Little Sister (ADAM harvesters), or Big Daddy (Little Sister protector). Splicers made up the buck of my combat experiences and provided little challenge, even in the later levels. While there were several different models and voices for them, their actual fighting styles consisted of only 3 or 4 types, each of which was quite powerful when first introduced, but quickly became bugs under my feet that insisted on being crushed. Big Daddy's on the other hand were a much greater challenge I welcomed it every chance I got. On each level there were two or three of them lurking with a Little Sister. Once the Big Daddy is defeated, the Little Sister is helpless.
This is where the games very basic good/evil system comes into play. You have a choice of harvesting the Little Sister for mass amounts of ADAM, which kills her in the process, or saving her, which yields much less ADAM but allows her to live. While I may be an evil bastard in Oblivion and Fable, I just can't bring myself me suck the life out of a little girl for profit. Every time you save all the Little Sisters in a level, they leave you a gift with extra ADAM, money, and bullets to help you on your way. Despite receiving a lack of ADAM I didn't really feel like I was so limited that I ever had to harvest a Little Sister so there wasn't much of a crux to the whole moral choice.
Aside from the organic crawlies running around Rapture there's also a great deal of interaction with mechanical turrets, cameras, and vending machines, all of which are hackable. Since you can get reduced prices, unlock special items, and get bonuses for engineering items, hacking is a valuable ability to hone. Unfortunately, the developers decided to make the hacking mini game play like a frustrating Pipe Dream clone. It is entirely devoid of fun and without any tonics to help you out later on in the game, became difficult to the point that it was easer to just destroy the turrets and fight off the hordes of Splicers myself.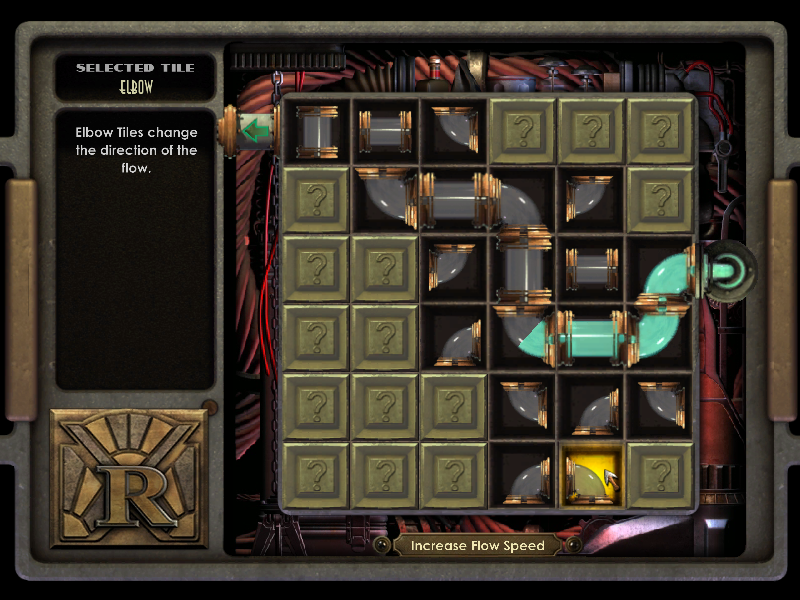 For the hundredth time! THIS ISN'T FUN!
The actual story doesn't advance much early on in the game since everything that can go wrong does. For most of the game the back story is only accessible by grabbing recorder diaries of Raptures departed or spliced. Once a recording is picked up it can be listened to ala Doom 3. A good deal of interesting details can be found on the recordings including Raptures past and how its citizens plunged into the dark decaying mindset before Jack arrived. Major curve ball hits about two thirds of the way in and I ended up pulling an all nighter to complete the game because of it. I have to say, unless you're a total evil bastard, I recommend saving every Little Sister you come by. The good ending was much more rewarding and, more importantly, less confusing then the evil one. You should be warned ahead of time that harvesting a single little sister automatically nets you the evil ending which I found incredibly disappointing since it basically means the ending of the full 10 hours of game play revolves around one single decision.
Final thoughts? The creepy environments and wicked plot make for a very immersive game. While not really innovative there's still much to be enjoyed for fans of most any kind of shooter. Game of the year? Maybe not, but if you're willing to forgive a few game play issues for a great story and pleasing visuals then would you kindly pick this one up?
+ Excellent visual design
+ Plasmids break up the otherwise repetitive combat
+ Once the plot hooks you, there's no going back
- Hacking is about as fun as a swift kick in the jollies
- Surprisingly little diversity in enemy types
- The good/evil choice is a big fat gimmick

? Smoking tobacco to heal must have been a 60's thing.
? Seriously, the multiplayer could have been golden!
PATCH NOTE: If you intend to play BioShock on a widescreen monitor there is a bug that forces the game to be played at standard resolutions. A patch has since been released that fixes this bug.